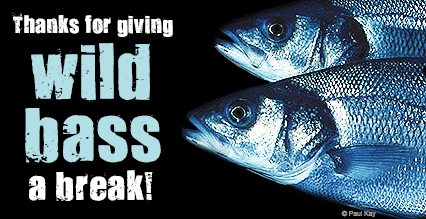 Thank you to all those who pledged and wrote to their MP to call for greater limits on catches for sea bass. This action is now closed.
What you helped achieve
At a meeting on the 13th of December 2016, EU ministers agreed to restrict fishing opportunities for seabass in 2017 through:
Catch by fixed gill nets limited to 250kg per vessel per month for unavoidable bycatch only (reduced from 1.3 tonnes a month and a previous closure in February-March).
Hook and line fisheries limited to 10 tonnes per annum (closed season February-March).
By-catch from demersal trawls and seines allowed at 3% daily, capped at 400kg per vessel per month.
No provisions for other forms of netting, other than fixed gill net.
Recreational angling restrictions remain unchanged: catch and release only for the first six months, followed by a daily limit of one fish per fisher.
These measures are predicted to result in a 37% reduction in UK commercial catches next year, to a total catch of 322 tonnes. Whether these provisions will be enough to restrict total EU catches to below 882 tonnes in 2017 (as MCS pushed for) is yet to be seen. We do know that continued overfishing of this stock could lead to irrecoverable long-term harm to the stock. Now more than ever, it is important to have robust monitoring of catches as the unreported sale of wild bass has been a problem for this species.
The fishery remains red rated at Good Fish Guide for the time being, so we still encourage you to avoid wild seabass until it shows signs of recovery and moves off the MCS red list.
Thanks again for you support!